The Double Wink newsletter (multi-use version) is a clean and professional newsletter solution.
It is available in 8 color themes, 7 layouts each (total of 56 pages), Mailchimp version and 7 layered PSD files (contains all layouts and color themes). You can customize it very easily by following the help documentation and HTML code comments.
This multi-purpose version comes with different sizes of banner ads and 2-3 product comparison that fits software, product offers and all commercial uses, in addition to full sidebar (layout #3) and Letter (Layout #7) for Business and General. newsletter usage, the rest of the layouts have a unique design and support up to 3 columns making it ready for any newsletter usage.
Features and content
8 color themes each of them contains 7 ready-to-use HTML newsletter pages.
7 layered Photoshop files containing all layouts and color themes.
Mailchimp version (56 pages) filled with Mailchimp code formulas.
Very easy to customize thanks to user-friendly documentation with tips, important information and images.
Valid HTML 4 .01 Transitional.
Ability to copy/paste lines from one layout to another.
Ability to delete/duplicate any line.
Designed with usability in mind, check out the screenshots to learn more about usability, documentation, and customization.
Compatibility
Compatible with all major email clients and sites, tested in Microsoft Outlook (2000, 2002, 2003, 2007, 2010), Apple Mail (3, 4), Lotus Notes 8, Thunderbird (2, 3), Windows Mail, Windows Live Mail, Yahoo Mail, Hotmail, Gmail, Postbox, Entourage 2008 and AOL Mail.
Compatible with all browsers, HTML pages rendered perfectly under Internet Explorer (5.5, 6, 7, 8), Firefox, Google Chrome, Opera and Safari.
Credits
Icons and images of Clarita, icojoy, Andy Gongea, Alexei Egorov, Aha-sweet, land of icons, artwork, Tatyana Suhodolska,
benjamin reid, austin helland Liam McKay
Photographer Edition
If you like this newsletter, you might also like the
photographer version. (comes with different layouts suitable for photographers, artists, designers and freelancers)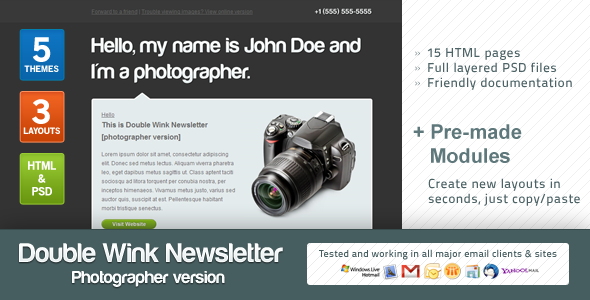 If you like this newsletter, you might also like: